Technical equipment
The technical equipment of our workgroup includes both protein biochemistry and analytical devices. Additionally many other tools and methods are available and ready to use in cooperating workgroups around the campus.
Molecular biology laboratory
e.g. clean benches, incubators, thermocyclers, electrophoresis, blotting apparatus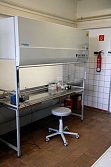 LAF-Box (clean bench)
LaminAir HB 2472, Heraeus Instruments

Thermocycler
e.g.: T3 Thermocycler, Biometra Mastercycler gradient, eppendorf

Microplate Reader
Microplate Reader infinite F200 Pro, TECAN Fluorescence Plate reader FLx 800, Bio-TEU-Instruments Inc.
UV/Vis-Spectral photometer
Double beam photometer UV-160A, Shimadzu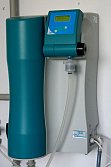 Water processing
Water processing TKA GenPure, TKA GmbH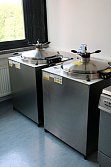 Autoclave
Varioklav Typ 500, H+P Labortechnik UM 500, Memmert
---
Protein chromatography

Enzyme purification
ÄKTAexplorer 100, Pharmacia Biotech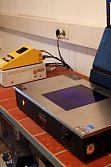 Gel-Photography
Transilluminator (312 nm) TC-312A, Spectroline Videocam Modul CCD, Ltf-Labortechnik Videokopie Prozessor P91E, Mitsubishi
---
Cell and tissue culture for bacteria, yeast, and plant cells and tissues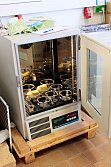 Climate chambers
B 6060 Heraeus Instruments
---
Analysis of natural compounds and metabolites

GC/FID/NPD
HP 6890 Series GC-System, Hewlett Packard

GC/MS GC:
Shimadzu GC-2010 MS: Shimadzu GC/MS-QP2010S, Shimadzu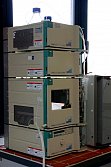 HPLC/DAD
HPLC: Elite LaChrom, VWR Hitachi DAD: L-2450, VWR Hitachi

HPLC/DAD/Fluoreszenz
HPLC: Merck Hitachi - LaChrom D 7000 DAD: L-7455, Fluoreszenzdetektor: L-7485, Merck Hitachi

HPTLC-Automated Multiple Development
AMD-2, CAMAG; Linomat IV, CAMAG

Rotary evaporator
e.g.: Laborata 400, Heidolph Instruments GmbH, VV 2000, Heidolph Instruments GmbH
Büchi R-10, Glasaparatefabrik

Column chromatography equipment
---
In General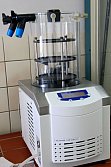 Lyophyllisator
e.g.: Alpha 1-2LD plus, Christ LMC-1 + Gamma 1-20, Christ
SpeedVac
e.g.: RVC 2-18, Christ RVC 2-25, Christ


Centrifuges
e.g.: Ultra-Centrifuge Sorvall RC-5B Refrigerated Superspeed Centrifuge, Du Pont Instruments
---
Plant culture
e.g. climate chambers and green houses
---
Special laboratory for radioisotope experiments
with 32phosphorous, tritium, 14carbon
---
---
---