Isolation and measurement of betulinic acid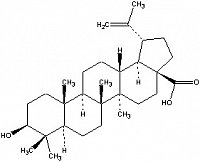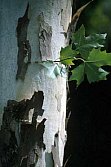 Betulinic acid (BA) is a triterpene carboxylic acid that induces apoptosis specifically in melanoma cells. BA is a lead structure for anticancer compounds with direct attack on mitochondria in tissues of neuroectodermal origin. BC may be obtained by oxidation of betulin, a natural product from birch bark. Alternatively BA may be isolated directly from plant tissue.
Isolation of betulinic acid from plane bark (Patent) or from other plant sources yields pure BA that is more easily to obtain than by oxidation of betulin. Plant tissues are examined for concentration of betulinic acid, and extraction methods are optimised. Separation of BA from contaminants originating from plant tissues are evaluated.
Co-operations:
• Faculty of Pharmacy of Martin Luther University - PD Dr. Hans-Hermann Rüttinger
• BioService Halle GmbH, Associate Institute of the Biocenter of Martin Luther University - Dr. Jutta Kalbitz, PD Dr. Reinhard Paschke
---
---