Calystegines as bio-active agents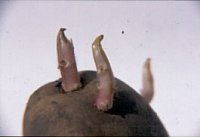 Calystegines (hydroxylated nortropane alkaloids) are strong glycosidase inhibitors. Plant alkaloidal glycosidase inhibitors are considered as defence compounds against herbivores and pathogens. Calystegines are localised in Solanaceae, specifically in yound and meristematic tissues. In potato, they accumulate in the sprouting tuber. Calystegines, however, are not inducible by stress signals, such as jasmonate, phytohormones, or elicitors. Calystegines do not inhibit growth of laboratory insects or the invertase of phytopathogenic or mutualistic fungi. Instead, they inhibit plant invertase preparations.
Calystegines are being tested for their possible function in plant carbohydrate metabolism. Their concentration in many tissues and developmental stages of potato are measured. Transgenic potatoes with alterations in carbohydrate metabolism are investigated for calystegine concentrations. Calystegines are present in foods such as potato tubers, therefore their absorption in human gut is tested. Chromatographic procedures for isolation of pure calystegines are developed.
Co-operations:
Max-Planck-Institute of Molecular Plant Physiology Golm - Dr. Joachim Kopka
Institute of Chemical Technology Prague - Prof. Dr. Frantisek Kvasnicka
Institute of Biology, University Erlangen-Nürnberg - Prof. Dr. Uwe Sonnewald
Biocenter of Martin-Luther-University - PD Dr. Matthias Brandsch
---
---