Research
In the group Biogenic Drugs we deal with isolation, analysis and effects of natural products from plants. We investigate functions of these substances within plants as well as the potential use as new drugs.
Another focus is on the investigation of enzymes of alkaloid biosynthesis, their evolutionary origins and its biochemical characterization and their importance for the plant itself.
Here you can see a short list of our recent priority projects:
Recent Projects
---

Calystegines as bio-active agents
Calystegines (hydroxylated nortropane alkaloids) are strong glycosidase inhibitors. Plant alkaloidal glycosidase inhibitors are considered as defence compounds against herbivores and pathogens.
Calystegines are localised in Solanaceae, specifically in young and meristematic tissues...
---

Polyamines and drought tolerance
Cross-talk of polyamine and calcium signalling in stress tolerance of barley (Hordeum vulgare)
Drought is a major limitation for crop yield, and drought-tolerant crop cultivars are a worldwide necessity. Polyamines were shown to improve tolerance and recovery from drought, and recent results place spermine at a prime position for this effect. The mechanism of action of spermine is unknown, but evidence points to spermine modulation of cation channels...
---

The evolution of putrescine N-methyltransferase
Alkaloids like nicotine, atropine, scopolamine and their derivatives are pharmaceutically important agents used as antidotes for intoxications, for the medication of asthma, as spasmolystics, and against motion sickness. These alkaloids are formed in Solanaceae plants like Nicotiana spec. and Datura stramonium, where they are essential for protection from herbivory...
---

Characterization of different Spermidine-, Spermine- and Thermosperminsynthases
Under physiological conditions, polyamines are protonated and have a cationic character. This allows interactions with negatively charged macromolecules such as nucleic acids and membranes.
Polyamines play important roles in nearly all living cells. They have regulatory functions in cell differentiation and growth processes, furthermore they are involved at the cell's own stress response and take cell protective functions...
---

Extraction, Isolation and Identification of Glycosylceramides from Plants
Ceramides belong to the complex class of sphingolipids. They occur in all animals, plants, fungi, but also in prokaryotes and viruses.
As a major component (35-40 %) of the stratum corneum, the outermost layer of human skin, ceramides take significantly part in the formation and stability of the skin barrier...
---

Tropinone-reductase-like proteins
Evolution of plant secondary metabolism: The promiscuity of tropinone reductase-like short chain dehydrogenases/reductases
Enzymes with relaxed substrate preferences are considered as primordial proteins that served as basis for the evolution of specific catalysts in higher organisms.
In higher plants, numerous short chain dehydrogenases/reductases (SDR) participate in secondary metabolism. These enzymes mostly possess high substrate and reaction specificity, e.g., tropinone reductases...
---
---
Former Projects
---

Calystegines are polyhydroxyl nortropane alkaloids. They occur in Solanaceae, that produce medicinal tropane alkaloids, such as atropine (racemic hyoscyamine) in Atropa belladonna, Hyoscyamus niger and Datura stramonium. Calystegines are also found in potato tubers (Solanum tuberosum) and in wire weed (Calystegia sepium, Convolvulaceae)...
---

Vitamins and phytoestrogens from plant sources
Plant secondary products possess many functions in plant metabolism as well as in human nutrition. For the activity assessment of plant vitamins and of phenolic compounds with phytoestrogenic activity, exact identification and measurements are a prerequisite...
---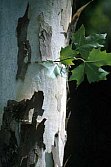 Isolation and measurement of betulinic acid
Betulinic acid (BA) is a triterpene carboxylic acid that induces apoptosis specifically in melanoma cells. BA is a lead structure for anticancer compounds with direct attack on mitochondria in tissues of neuroectodermal origin. BC may be obtained by oxidation of betulin, a natural product from birch bark. Alternatively BA may be isolated directly from plant tissue...
---
---