Biosynthesis of Calystegines

Calystegines are polyhydroxyl nortropane alkaloids. They occur in Solanaceae, that produce medicinal tropane alkaloids, such as atropine (racemic hyoscyamine) in Atropa belladonna, Hyoscyamus niger and Datura stramonium. Calystegines are also found in potato tubers (Solanum tuberosum) and in wire weed (Calystegia sepium, Convolvulaceae). Biosynthetic steps of calystegine formation are elucidated by metabolite analysis, application of precursors, and isolation of enzymes and genes involved.
Calystegines are formed by the tropane alkaloid biosynthetic pathway (see picture). Putrescine N-methyltransferase (PMT) and tropinone reductases (TR) take part in calystegine formation. cDNA sequences from potato with high similarity to PMT- and TR-coding sequences from Hyoscyamus niger and Datura stramonium produce active and specific enzymes when expressed in E. coli. Thus tropane alkaloid biosynthesis takes place in potato, in other Solanum species and also in Convolvulaceae like wire weed.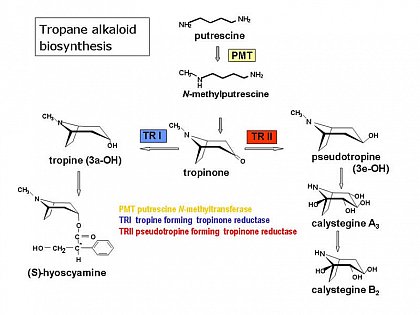 Regulation and evolution of tropane alkaloid biosynthesis are investigated using putrescine N-methyltransferase and tropinone reductase as examples. During evolution, tropinone reductases may have evolved stepwise from short-chain dehydrogenases of primary metabolism. The current questions are directed towards the function of the ancestor enzymes and towards the developmental steps necessary for specialised tropinone reductase evolution. Methods are comparison of DNA and protein sequences, protein expression and substrate and product specificity analysis. Immuno-histochemical localisation of both tropinone reductases in Solanum tuberosum is intended to broaden the understanding of the regulation of calystegine formation. Putrescine N-methyltransferase cDNA was cloned from various calystegines forming plants. PMT, judging from sequence similarity, evolved from spermidine synthase and amino acid exchanges required and effectual for change of function are retrieved. Research for the evolution of tropane alkaloid enzymes is part of the DFG priority programme EvoMe.
Co-operations:
Faculté de Pharmacie, Université de Picardie Jules Vernes, Amiens, France - Prof. Dr. Marc A. Filiniaux and Dr. Francois Mesnard
Leipniz-Institute for Plant Biochemistry Halle - Dr. Bettina Hause, Prof. Dr. Dieter Strack, Prof. Dr. Ludger Wessjohann, Dr. Wolfgang Brandt
Institute of Biochemistry and Biotechnology, Martin-Luther-University - Prof. Dr. Milton Stubbs and Dr. Christoph Parthier
---
---