"Phyto"-Ceramides
Extraction, Isolation and Identification of Glycosylceramides from Plants
Ceramides belong to the complex class of sphingolipids. They occur in all animals, plants, fungi, but also in prokaryotes and viruses.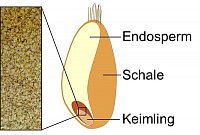 As a major component (35-40 %) of the stratum corneum, the outermost layer of human skin, ceramides take significantly part in the formation and stability of the skin barrier. Additionally they undertake several functions of signal transduction and cell-cell-recognition in the human body. By now there are insights in apoptotic effects against the human colon-carcinoma.

Structure of Ceramides and Glycosylceramides in plants
Plant and human sphingolipids vary in their structure. In contrast to human ceramides the ones of plant origin predominantly exist in glycosylated forms. After hydrolysis of the sugar moiety the comparison of functions should be possible.
The quantitative extraction and following structural und functional characterization will give information on the importance of "phyto"-ceramides for the plants themselves and for humans. Therefore glycosylceramides are detected and isolated by modern analytical methods so that they can be examined in detail.
Co-operations:
Leibniz Institute of Plant Biochemistry Halle, Dept. Bioorganic Chemistry, Prof. Dr. Ludger Wessjohann
Martin-Luther-University Halle-Wittenberg, Institute of Pharmacy, Dept. Pharmaceutical Technology und Biopharmaceutics, Prof. Dr. Dr. Reinhard Neubert
Addis Ababa University (Ethiopia) , Pharmaceutical Chemistry & Pharmacognosy, Prof. Kaleab Asres
---
---