Characterization of different spermidine-, spermine- and thermosperminsynthases
In 1678, Antony van Leeuwenhock described the occurrence of the tetraamine spermine in human semen. Besides spermine (I) and its constitutional isomer thermospermin (II) the class of polyamines also includes the triamine spermidine (III).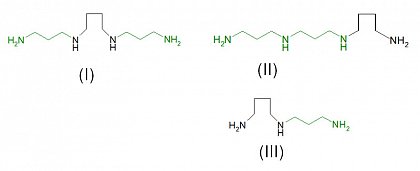 (I) Spermine (II) Thermospermine (III) Spermidine
Under physiological conditions, they are protonated and have a cationic character. This allows interactions with negatively charged macromolecules such as nucleic acids and membranes.
Polyamines play in nearly all living cells an important role. They have regulatory functions in cell differentiation and growth processes, furthermore they are involved at the cell's own stress response and take cell protective functions.
Several enzymes of the polyamine metabolism play an important role in the genesis and regulation of the individual representatives. Representing the spermidine synthase is mentioned.
This enzyme transfers an aminopropyl group to the substrate putrescine and spermidine arises.
The cosubstrate dcSAM (decarboxylated S-adenosylmethionine) serves as an aminopropyl group donor.
Comparative studies of different spermidine synthases, their characterization and ways of influencing them are the subject of this research.
Human spermidine synthase, section of the catalytic site, a, Putrescine; b, dcSAM
created with Pymol 1.3
Co-operations:
Leibniz Institute of Plant Biochemistry Halle, Dept. Bioorganic Chemistry, Prof. Dr. Ludger Wessjohann
---
---