News/Vacancies
Vacancies
Unsolicited applications for diploma, bachelor's, masters's and Ph.D. students are welcome at any time.
The research spectrum of the group Biogenic Drugs offers many opportunities for the first steps on the field of science. Equally, broadening of experience in scientific concepts and methods is offered. Many collaborations with other institutes and projects allow to thoroughly learn about other areas of science and to produce optimal results.
---
News
05/2015 - International Ceramide Conference - Sphingolipid Club - Joint Meeting, Cesme, Izmir, Turkey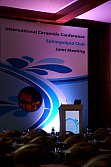 Mathias Reisberg was allowed to present part of his work at the joint meeting of two international conferences on ceramides and sphingolipids, with interesting discussions and advives for his future work.
10/2014 - 4th International Conference on Novel Enzymes,
Gent, Belgium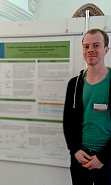 The conference offered two of our Ph. D. students new input in the modern research about enzymes and their application as biocatalysts. The congress took place in the beautiful historian city Gent in Belgium.
10/2014 - Workshop on African Phytopharmaceuticals, Addis Ababa, Ethopia.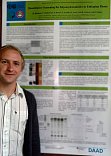 The "Wokshop on African Phytopharmaceuticals" as part of the DAAD-Project "Welcome to Africa" was held in Addis Ababa, Ethiopia. Halle was also present: Mathias Reisberg contributed his poster "Quantitative Screening for Glycosylceramides in Ethiopian Plants" and discussed the results to date and future issues.
07/2014 - HPTLC 2014, Lyon, France. (22nd) International Symposium for High-Performance Thin-Layer Chromatography.


Summer time is conference time: Mathias Reisberg went to Lyon for HPTLC 2014 Symposium for poster presentation this month. Interesting speeches and actual information were provided by scientifics all over the world and made the HPTLC 2014 successful.
06/2014 – Banff, Alberta, Kanada. 3rd Banff Conference on Plant Metabolism


Nadine Küster had the chance to give a talk in Banff (Canada) this summer. The main conference topics discussed the elucidation and optimisation of secondary pathways in plants and microorganisms. After the end of the conference there was the possibility to explore the impressive and beautiful countyside of the Rocky Mountains.
01/2014 - Pharmaceutical carneval: PHARMAlympia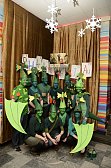 This year PHARMAlympia was the motto of the pharmaceutical carneval. Thus the groups of the Hoher Weg decided to get together in a costume. They formed the so-called "HYDRA-kultur Hoher Weg" and won the prize for the best costume. What a party!
12/2013 - Christmas party Hoher Weg


The annual Christmas party of individual groups were merged this year to a large one. With big popularity and culinary contributions this evening became a memorable for all of us. In this sense: Year after year, hopefully next year.
11-12/2013 - Diploma Student goes to Ethiopia for one month
In November 2013, a diploma student had the Opportunity to spend one month in Ethiopia to do research. He investigated Ethiopian plants for the presence of ceramides. The cooperation with the Ethiopian university is a milestone in the group.
In 2014 another chance of a one-month-visit for a diploma student to Ethiopia.. He or she will experience everyday lab work in Addis Abeba University.
09-10/2013 - Botanikertagung 2013 Tübingen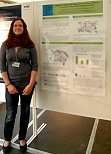 In October, two PhD students presented their posters at a prestigious conference for biological research - the biannual symposium of the German Botanical Society in Tübingen.
Again, new views and ideas were exchanged and will improve the work in the laboratory at the Hoher Weg. The input from of a meeting is immense and important especially for young Ph.D. students.
09/2013 - GA 2013 Münster – 61st International Congress and Annual Meeting of the Society for Medicianl Plant and Natural Product Research (GA)



Three Ph.D. students and a postdoc visited the international conference in Münster. Two oral presentations and two posters were contributed by the group members and thus represented the scientific work of the Pharmaceutical Biology at MLU Halle-Wittenberg.
In addition to scientific experiences, impressions of the beautiful Munsterland with pizza, wine and Co were collected.
08/2013 - Hoher Weg-Get-together Vol. 1
The Hoher Weg-Get-together Vol. 1 was developed to bring groups together. All of us came together having cocktails and barbecue and spending some nice hours at the Hoher Weg. It was great and will soon be repeated in the form of Vol. 2!
06/2013 - Trip – Brocken, Harz mountains


In June 2013, the annual group trip – lead to The Brocken in the Harz mountains. After a long walk in beautiful weather, the view from the top of the Brocken could be enjoyed. The great picnic was delicious, it was pepared for the journey by group members at home.
04-05/2013 - Research stay in Ethiopia for 2 months


The Ph.D. student Mathias Reisberg collected impressions an d experiences in April and May 2014. As part of the DAAD-funded project "Welcome to Africa" in cooperation of the MLU Halle-Wittenberg and the Addis Ababa University (Ethiopia), a 2-month stay abroad in Ethiopia was organised. In addition to lab research and a field trip, he also gained insights in culture and every day life of people. Ethiopia is worth a trip!
10/2012 - Meeting Section natural products (GA), Hildesheim
The annual meeting of the Section Natural Products of the Society for Medicinal Plant Research took place in Hildesheim. Particularly Ph.D. students are encouraged to discuss their recent results with other colleagues at this meeting.
09/2012 - International Conference: Polyamine Istanbul 2012


Two members of our group had a unique opportunity to participate in the Polyamines Conference, which was held in Istanbul. Of course, in addition to the scientific knowledge, cultural horizons have been extended.
---
---