RG Pharmacognosy
Welcome to the website of the research group Pharmacognosy at the Institute of Pharmacy.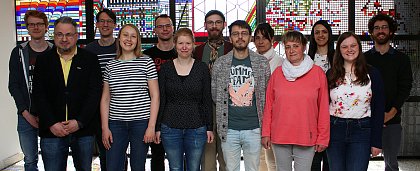 The Niedermeyer group in May 2019. f.l.t.r. Markus Schwark, Muaaz Al-Ajlani, Timo Niedermeyer, Ronja Kossack, Dominik Wichner, Katrin Gilbert, Paul Barac, Tomasz Chilczuk, Anja Wodak, Kathrin Kunth, Chaimaa Katif, Nadja Wilkenshoff, Steffen Breinlinger
Many new team members are missing on this picture, and some of those on the picture have already left us - a new picture will be taken as soon as the pandemic has passed...
News
September 2019 - Anke Dettmer is our new technician for the biology labs. Welcome!
August 2019 - Diana Barrera has joined the RG as PhD student. Welcome!
July 2019 - Dr. Emmanuel Njoya will do research in our labs for the next two years (AvH fellow). Welcome!
July 2019 - Nico Ortlieb has successfully defended his Ph.D. thesis. Concratulations, and all the best for the future!
June 2019 - Steffen Breinlinger has received a poster award at this years "Pharma Research Day" of our institute.
June 2019 - Public Outreach: Pupils from the Elisabeth-Gymnasiums in Halle have visited our labs to learn more about "the use of plastics in science".
Mai 2019 - Julia Moschny has been awarded with a poster prize for her poster "From "click" to kill – Generation and application of microcystins with "clickable" features" at the Copenhagen Bioscience Conference "Natural Products - Discovery, Biosynthesis and Application" of the Novo Nordisk Foundation. Congratulations!
Mai 2019 - Markus Schwark has joined the RG as PhD student. Welcome!
April 2019 - Dr. Muaaz Al-Ajlani will support the RG for two years as Senior Scientist. Welcome!
Februar 2019 - Steffen Breinlinger has been awarded with the prize for the best poster with his contribution "Hunting down the Eagle Killer - Investigations into the Novel Cyanotoxin Causing Avian Vacuolar Myelinopathy" at the 31. Irseer Naturstofftage of the DECHEMA. Congratulations!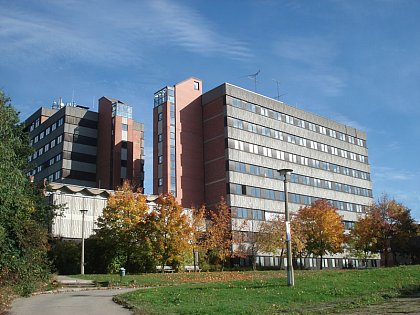 How to reach us
With the Tram
Take the line 7 (the pink line ) and get off at Luise-Otto-Peters-Straße. Follow the small road Am Birkenwäldchen to the very end (pedestrians only) until you reach the parking area at Hoher Weg.
With the car
Drive to the parking area "Hoher Weg" or "Kreuzvorwerk". Entering "Hoher Weg 8, 06120 Halle (Saale)" into your navigation system will bring you to one or the other, depending on from where you come (e.g. Google does not know the two parking areas are not connected...).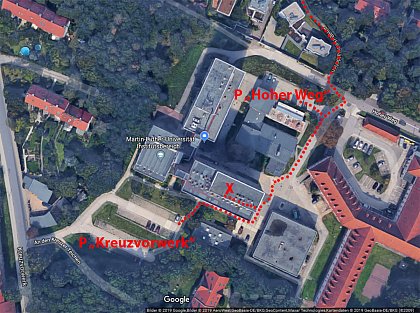 How to find us
Enter the building through the side door (don't be afraid, this is the back entrance...) until you reach the X. Take the elevator to the 7th floor, turn right until you reach room 718 (last room on the right).
---
---