Natural products from cyanobacteria
Cyanobacteria are an under-researched source of chemically intriguing natural products with various, often pronounced biological activities.
We currently have various projects where we work on cyanobacterial natural products.
---
Microcystins as drug lead compounds

Microcystins, cyclic heptapeptides from cyanobacteria, can possibly be used as lead compounds for the development of drugs targeting certain types of cancers. Together with the company Cyano Biotech GmbH (Berlin, Germany), we are currently working on the generation of optimized structures and antibody-drug conjugates with high selectivity for tumor cells, reducing their general toxicity and, thus, the side effects of these potential future drugs.

The microcystins have a novel mode of action for anticancer therapy (inhibition of protein phosphatases) and depend on active transport into cells in order to excert their toxicity. We have modified the chemical structure of microcystins so that they can be attached to antibodies that can selectively be taken up only by cancer cells.
These novel microcystins can easily be chemically tagged with any kind of marker, e.g. for electron or fluorescence microscopy. Thus, they can be used in physiological studies on the role of microcystins within cyanobacteria, as well as for pharmacological studies within eukaryotic cells.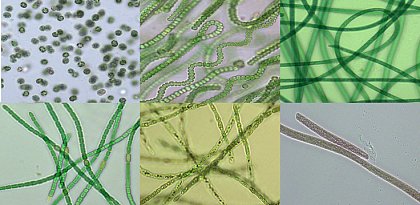 microcystin producing cyanobacteria strains

The project has been financially supported by the BMWi (2017-2019) and pursued by Dr. Julia Moschny.

Currently, Laura Stock and Lena Höper (funded by the DFG) are working on this project.
Cooperations:
Dr. Dan Enke, Cyano Biotech GmbH, Berlin
Prof. Frank Bordusa, Naturstoffbiochemie, Uni Halle-Wittenberg
---
Characterization of the "Eagle Killer toxin" Aetokthonotoxin

AVM is a fatal neurological disease affecting freshwater fauna, mostly birds and some reptiles. One typical symptom of the disease are leasions in specific brain areas of affected birds. AVM in recent years has been observed all over the south-eastern states of the USA. The disease has been linked to cyanobacteria of the novel species Aetokthonos hydrillicola by our American collaboration partners. The cyanobacterium grows epiphytically on Hydrilla verticillata, an invasive water plant spreading aggressively throughout freshwater reservoirs in the southeast of the US. Aetokthonos' most famous victim is the national animal of the US, the bald eagle. We could isolate the cyanobacterium from AVM affected lakes, took it in culture, and could isolate the toxin causing AVM. Aetokthonotoxin it as a chemically novel cyanotoxin, which was published as cover story in the journal Science in March 2021.
We also have achieved the total synthesis of the toxin .
Currently, we work on the following questions:
What is the mode of action of this toxin?
Which parts of the structure are relevant for toxicity?
Which environmental factors trigger the production of the neurotoxin?
How is the toxin biosynthesized?
Which additional natural products are produced by the cyanobacterium Aetokthonos hydrillicola?

This project is funded by the DFG (2019-2022). Steffen Breinlinger and Markus Schwark are working on this project.
Co-operations:
Prof. Susan Wilde, Warnell School of Forestry and Natural Resources, University of Georgia, Athens,

USA

Prof. James Lauderdale, Department of Genetics, University of Georgia, Athens,

USA

Jan Mareš, The Czech Academy of Sciences, Institute of Hydrobiology, České Budějovice, Czech Republic

Pavel Hrouzek,

The Czech Academy of Sciences

,

Center Algatech, Institute of Microbiology,

Třeboň, Czech Republic
---
Halogenated natural products from cyanobacteria
In comparison with other organisms, cyanobacteria are very talented to produce a plethore of halogenated natural products, whioch often show pronounced biological activity.
In this project we work on the targeted isolation, structure elucidation and bioactivity testingof novel halogenated natural products and also characterize their production and biosynthesis.
Franziska Schanbacher is working on this project.
---
Past Projects
ANoBIn - Antiinfectives from Indonesian cyanobacteria

Indonesia is a so-called biodiversity hotspot with a dense and species-rich flora and fauna. In a collaborative project (ANoBIn, Accessing Novel Bacterial Producers from Biodiversity-rich Habitats in Indonesia) with other German as well as Indonesian partners, my group has striven to identify novel anti-infective metabolites biosynthesized by Indonesian cyanobacteria. The project included sampling excursions to isolate novel cyanobacteria strains, followed by their identification and taxonomic characterization and a biological and chemical screening. Subsequent processing (cultivation, extraction, isolation and structure elucidation of active compounds) has been performed for the most interesting strains. This project has been funded by the German Federal Ministry of Education and Research (BMBF).

We were not only screening for natural products with direct antibacterial or anifungal activity, but were also interested in inhibitors of proteases that are currently discussed as drug targets to treat certain infections. We were e.g. searching for natural products inhibiting the protease rhodesain from Trypanosoma brucei, a pathogen causing sleeping sickness.

The project has been financially supported by the BMBF and pursued by Dr. Ronja Kossack.
Cooperations:
Prof. Dr. Jörg Overmann; Leibniz-Institut DSMZ (Deutsche Sammlung von Mikroorganismen und Zellkulturen

)

Prof. Dr. Peter Kämpfer; Institut für Angewandte Mikrobiologie, Justus-Liebig-Universität Giessen

Prof. Dr. Stefan Schulz; Institut für Organische Chemie, Technische Universität Braunschweig

Dr. Wien Kusharyoto; Laboratory for Applied Genetic Engineering and Protein Design, Indonesian Institute of Sciences

(LIPI)

Dr. Dwi Dwi Susilaningsih Setyawan; Research Center for Biotechnology, Indonesian Institute of Sciences

(LIPI)

Prof. Dr. Tanja Schirmeister, Institut für Pharmazie und Biochemie, Johannes Gutenberg Universität Mainz

---
Antibacterial Cyclophanes from Nostoc

In collaboration with scientists at the University Greifswald, Germany (M. Preisitsch and S. Mundt), we have been working on the structure elucidation of cyclophanes from the cyanobacterial genus Nostoc. A screening of cyanobacteria extracts revealed an extract from a Nostoc sp. as highly active against Gram-positive pathogens. The active compounds were isolated and structurally characterized, resulting in 5 new and 11 known cyclophanes . In addition to a pronounced antibacterial activity against S. aureus and S. pneumoniae, the compounds also displayed cytotoxicity. Presence of a carbamoyl group slightly enhances both antibacterial and cytotoxic activity.

We have also generated derivatives of the natural products for comparative activity testing. Furthermore, we have conducted a screening of > 100 cyanobacteria strains for novel analogs. This led to the isolation of novel compounds, the cylindrofridins , with intreaguing structures that helped us to contribute to the elucidation of the biosynthesis of the cyclophanes.

This project has been supported by the DZIF.
---
---